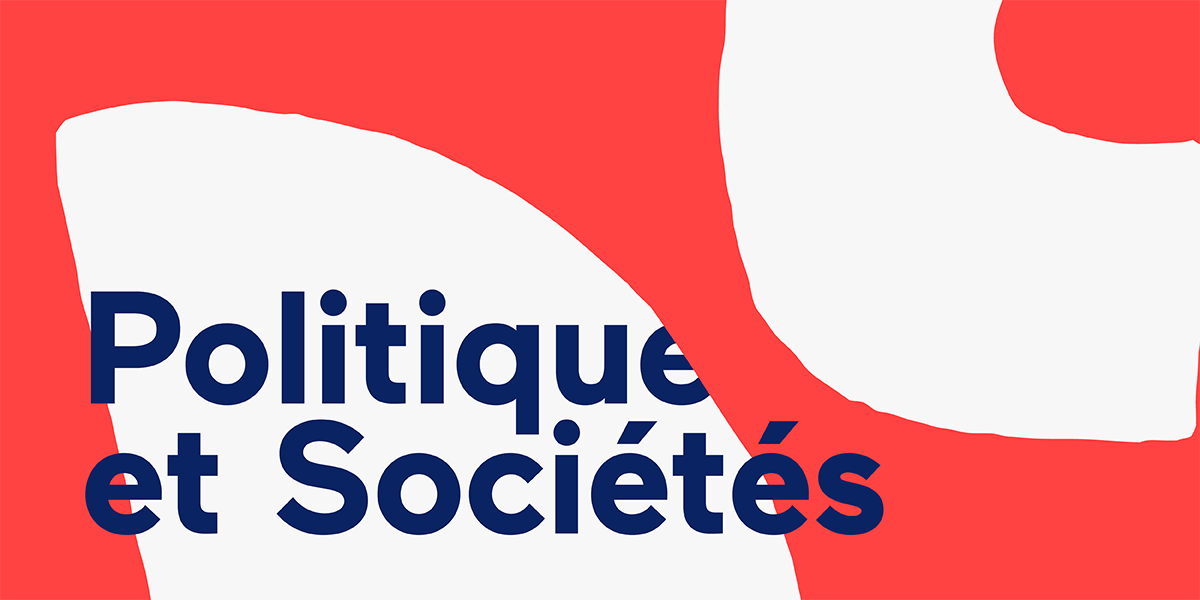 Politique et Sociétés : open to the world and its discipline
For this third interview, Érudit talks with Politique et Sociétés, a generalist political science journal with the objective of disseminating French-language think pieces and research articles from Québec and abroad. Founded in 1995, it has played an important role in putting current events in perspective and in analyzing the various issues raised by the way our political sphere is organized.
Politique et Sociétés has been disseminated in open access through the erudit.org platform since 2002. The journal is currently led by Laurence Bherer, a professor at the political science department of the Université de Montréal.
1. Can you explain the context in which Politiques et Sociétés was created?
Politique et Sociétés has existed since 1982. When it was created, the journal, which was then simply known as Politique, published articles focused mostly on politics in Québec, particularly on the relations between the province and the federal government. At the time, the field of political science research in Québec was still very new and the journal played an important role in developing that field and in disseminating knowledge about our society. This still remains an important objective today, even if our mandate is now wider.
In 1993, the journal changed names, becoming the Revue québécoise de science politique which would act as the French-language counterpart to the Revue canadienne de science politique. It played a key role in developing and solidifying the field of political science research in Québec. Since 1995, the journal has been known as Politique et Sociétés and its scope is now more open to the world and the rest of the discipline.
2. While still giving significant attention to Québec, Politique et Sociétés has opened up to the rest of the world on a varied and diversified range of issues. What explains this strategy?
Since 1995, Politique et Sociétés has become a generalist political science journal which publishes articles in French but not necessarily about Québec, although that remains a key point of focus in our publications. Notably, we try to keep a balance so that the journal can act as a dissemination vector for research coming from Québec and Canada, but also from international sources. And so the journal is not "provincial" or tied to a specific society anymore, and it actually now enjoys advantageous positioning on the international scene when it comes to contributions and readership. We publish articles that focus on Québec and Canada, written by Québec-based and Canada-based researchers, on a large number of themes that are not necessarily related to Québec, but we try to balance those with articles from the wider French-speaking world, again on varied topics.
It is the only exclusively French-language political science journal in North America. Politique et Sociétés is also pluralistic and open to every sphere of the discipline. If we compare with other political science journals, Politique et Sociétés occupies a specific niche that would otherwise be left vacant.
This strategy has worked well as, in the last few years, we have had on average 61% of our articles written by Canadian authors and 39% by international ones. Our non-thematic issues offer scholars and students from various institutions and geographical locations and who work in a variety of sub-fields of political science the opportunity to publish their work, while the thematic issues allow for the whole political science community to weigh in on various questions through a diversity of approaches and methods.
3. The journal is devoted to highlighting and disseminating scientific research in French. Why this focus on French-language academic research?
Publishing in French is important for many reasons. First of all, it allows for knowledge dissemination within our own society, offering French-language texts that might prove useful for research, teaching or knowledge mobilization. The journal also acts as a dissemination vector for research that focuses on understanding Québécois and Canadian societies.
Second, French-language institutions in Québec, in Canada and around the world have a long history of collaborating when it comes to research, and it is important that as a small French-speaking society, we contribute to this by offering solid and rigorous spaces for research dissemination. In the French-speaking world, Québec has always been a leader in defending research in French and the long history of a journal like Politique et Sociétés is a testament to that devotion. This does not prevent researchers from publishing in English, but it is important that the opportunity to publish in French also exist. And so, there are many ways of participating in international research networks, be it in English, in French or in any other language. This pluralism at the heart of research has to be maintained, and part of the responsibility of promoting falls to us.
4. Politique et Sociétés wants to contribute to putting current events in perspective and to analyzing the various issues raised by the way our political sphere is organized. The journal seems to favour using social networks, like Twitter or even YouTube, as communication tools. Can you tell me more about these initiatives?
We decided to create a Twitter account for the journal as a way of sharing the content we produce with the academic community, which is very present on that social network, but also to share it with people outside academia in order to disseminate scientific research in French. Twitter lets us highlight the political and social relevance of the research we publish, which is generally rooted in international current events, often specifically concerning the French-speaking international scene. This platform lets us dynamically share our articles by tagging our researchers, increasing our visibility within their universities and research chairs.
Our dissemination strategy is to promote the content of every issue when it releases, by sharing every article one at a time. When there is no issue to promote, we generally share around 3 articles per week that relate to current events. Twitter also lets us reach out to future collaborators by posting calls for articles or reviews.
With our YouTube channel, our objective is to popularize our French-language research and to create a more dynamic way of sharing it. For each issue, we record a video that is a few minutes long in which an author presents their article in a simple, concise and accessible manner. This format gives them a unique form of visibility and access to a new platform to share their research with a diversified audience.
Finally, in line with our objective of promoting French-language research, we have built a tool to help design course outlines, which is available for free online. It lists all of our original articles since 2007, sorted into fields and sub-fields of political science, and aims to facilitate the integration of French-language research into university and CEGEP course outlines by offering teachers the possibility of easily finding scientific references that fit any theme. This sorted list is also available through the bibliographical management tool Zotero.
5. Do you have suggestions of articles to read in Politiques et Sociétés that highlight this intersection between disseminating knowledge on political phenomena and the promotion of French-language research and teaching?
On the subject of French-language research, we have an entire issue dedicated to the issues and challenges by political science research in Belgium, Québec and France. It presents the trajectories taking by the discipline, with a critical eye toward its trends, its schools of thought and its modes of operation, which are tied to the current issues related to teaching and research.
→ Volume 31, Number 3, 2012 La science politique francophone. Défis et trajectoires Guest-edited by Carolle Simard and Jérémie Cornut. https://www.erudit.org/en/journals/ps/2012-v31-n3-ps0514/
Many of the articles we publish focus on political phenomena in the French-speaking world. For example, this article by David Paternotte and Bruno Perreau concerns the study of sexuality in French-language research.
→ Paternotte, David et Bruno Perreau. "Sexualité et politique en francophonie : état des lieux et perspectives de recherche." Politique et Sociétés, volume 31, number 2, 2012, p. 3–30. https://doi.org/10.7202/1014349ar
More recently, we had our thematic issue on separatist parties, edited by Pascale Dufour and Éric Montigny, which cast a light on the evolution of the Québécois political scene viewed in a larger international context of social and societal transformations.