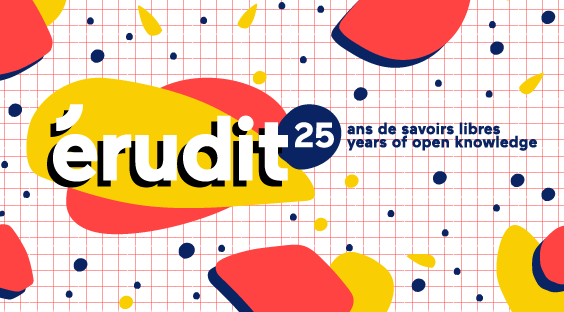 This autumn, Érudit and Acfas are joining forces to organize a half-day symposium on current issues affecting scholarly journals, particularly in Quebec. The symposium will take place on Monday, November 20, from noon to 5 pm. The event will take place in person, at the Esplanade Tranquille's pavilion in Montreal, and will be followed by a cocktail reception to celebrate Érudit's 25th anniversary.
The symposium aims to address the challenges facing journals.
It will take the form of workshops organized around key themes, including publishing in French, as well as issues surrounding the recognition, evaluation, expertise and funding.
Ideas and proposals that emerge from each workshop will then be presented at a plenary session to which several heads of universities, funding agencies and libraries will be invited.
The symposium program has been drawn up by an independent steering committee of journal editors.The committee is keen to consider all suggestions for themes and issues, and we invite you to submit them through the RSVP form below.
Discussions will take place in French, and will focus on issues of particular concern to journals based in Quebec. However, all editors of Canadian journals are welcome to participate, regardless of the language of their publication or the province where they are based.