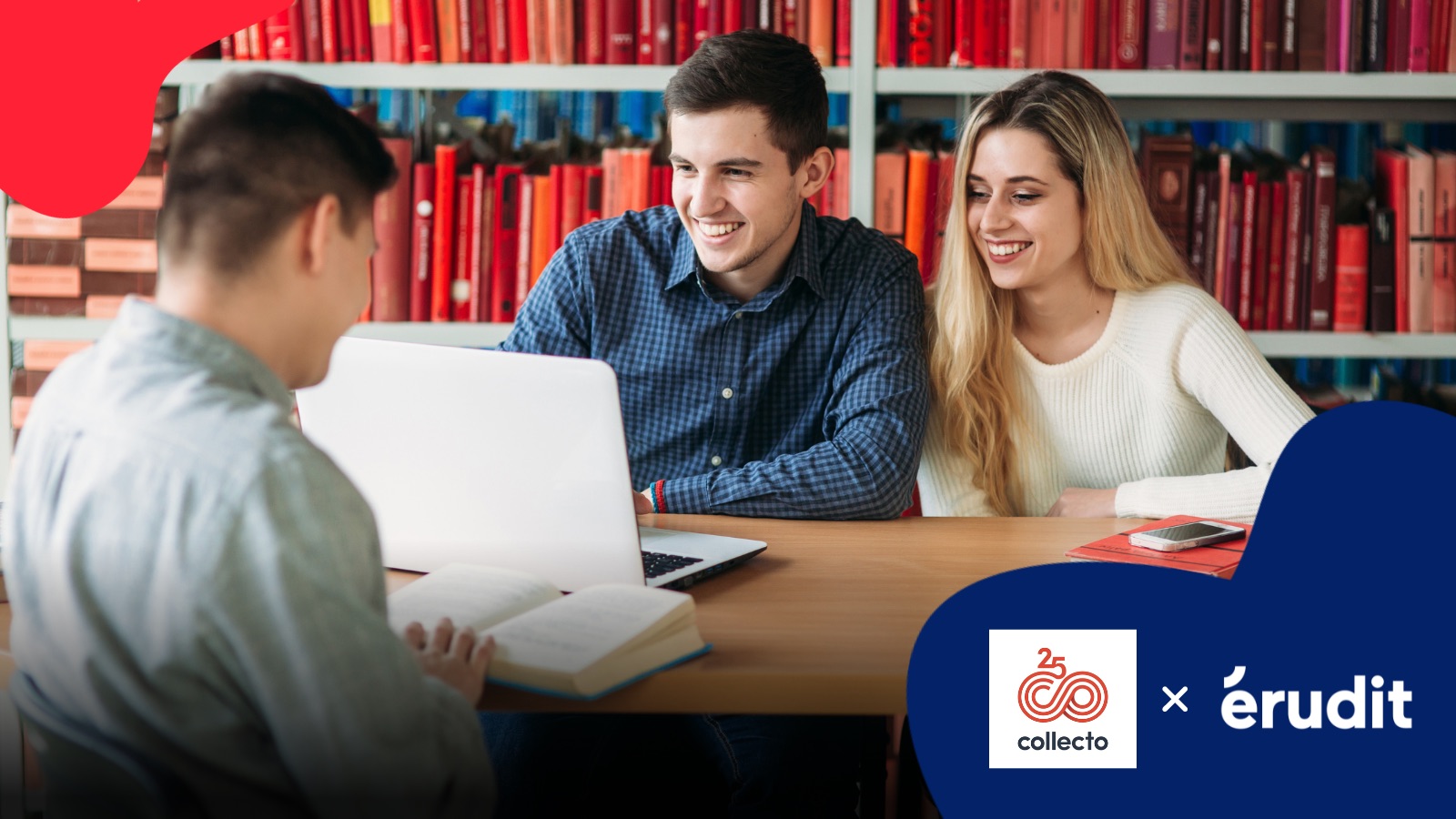 The agreement, which applies to 54 libraries in Québec and Ontario, allows 144,000 CEGEP students and teachers to access the largest corpus of humanities and social science journals in Canada.
Established in 2012, the collaboration between Érudit and Collecto has grown over the years through a model that promotes fair and equitable access to scholarly and cultural journals disseminated on the erudit.org platform through college libraries. By guaranteeing universal access to a database of top-quality Québec- and Canada-based publications for anyone associated with a participating CEGEP, this agreement helps to orient students toward academic or scientific careers. On top of that, by presenting articles which are for the most part written in French, it helps reinforce education and research in that language.
Five more years!
Érudit and Collecto are happy to announce today the renewal of this important agreement, extending it for the next five years (2022–2027).
 "We are proud to be able to rely on CEGEPs as long-term partners to help us promote the visibility of scholarly and cultural journals made in Québec and in Canada. By offering access to the latest research and reflections concerning our society and our culture, the journals on the Érudit platform contribute to education in CEGEPs, and to the development of a deeper shared culture," says Tanja Niemann, Executive Director for Érudit. "This agreement has had unprecedented longevity. Its renewal for the next five years is historic, it is incredible news! It guarantees concrete and durable support for the journals we disseminate."
A unique and valued collection
In a context where disinformation is becoming more prevalent, offering access to thorough and serious scientific and cultural resources to college students becomes essential. That is one of the strengths of the Érudit-Collecto agreement. Proof of its success is the fact that in recent years there has been an increase in the number of articles viewed in this corpus, demonstrating the extent to which it is used by the student and faculty communities at the college level. Cultural journals, which publish articles on literature, the visual arts, cinema or history, are some of the most valued resources in college libraries.
 "We are very happy with the way this agreement was received by everyone," declares Anthony Laquerre, director of technological solutions for Collecto. "Its repeated renewal, over 10 years now, shows that our members are interested by the content provided by Érudit. The increasing use made of Érudit's collections by the students and by the teacher and research personnel is also a good indicator of the success of this collaboration, which will continue, we hope, for many more years." 
About Collecto
Collecto Services regroupés en éducation is a non-profit organization that uses its expertise to accompany and support every stakeholder in the education network in achieving their educational mission. A partner of choice, Collecto promotes innovation to develop services and resolve current and future challenges in the world of education. Created in 1997 by the CEGEPs in Québec, Collecto now counts 140 member organizations working in this same network. collecto.ca
About Érudit


Érudit is an interuniversity consortium that includes Université de Montréal, Université Laval and Université du Québec à Montréal. Through an extensive range of services, from data tagging to document indexing with international content aggregators, the team at Érudit has been supporting the field of research and cultural publication and digital dissemination for over 20 years. Each year, the collections disseminated on the erudit.org platform are viewed by more than 5 million users from all around the world

. erudit.org